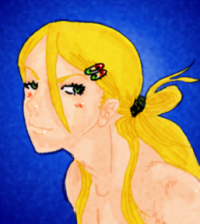 Patrizio Vidali, 30 anni.
E' un investigatore privato italiano piuttosto famoso in tutto il mondo, ma conosciuto solo attraverso i suoi numerosi alias.Se sentite parlare di Iyv Lancia o Patrick Varsittart, sappiate che si tratta di lui. Iyv ormai è come un suo nomignolo, infatti,viene chiamato così anche dagli amici molto intimi e da Hogan, che raramente lo chiama Patrizio. Ha trent'anni e un carattere solare, nonostante spesso nasconda le lacrime dietro il suo modo di fare da buontempone.
He's an italian private investigator, famous in all over the world, but know only through his many alias. If you hear speaking about Iyv Lancia or Patrick Varsittart, know that it's him. Iyv is by now his nickname, indeed, he's called thus also by his close friends and by Hogan, whorarely call him Patrizio. He's 30 years old and sunny,butoften he hides tears behind his jovial behavior.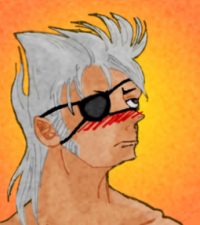 Hogan Russell, 30 anni.
Prima di incontrare Iyv si prostituiva per pagare le spese mediche di sua sorella minore. Ha avuto un passato piuttosto difficile a causa di suo padre che se ne andò quando era ancora piccolo e che lo respinse in malo modo per difendere la sua facciata da "uomo rispettabile". A causa di tutto ciò, ha un carattere cinico da uomo vissuto, anche se ha solo 30 anni. Perse l'occhio destro vendendo la cornea ad un trafficante d'organi,sempre per aiutare sua sorella in ospedale.
Before he and Iyv met, Hogan worked as a prostitute to pay medical expenses for his little sister. He had a difficult past 'cause his father left home when he was still a child and rejected him to defend his facade of "respectable man". Because all this, he's cynical although he's only 30. Hogan lost his right eye selling the cornea to an organ trafficker, always to help his sister in the hospital.



Thomas Reed
, 34 anni.
Ex agente di polizia accusato di corruzione, poi reintegrato a seguito della missione di protezione di un testimone: Cuthbert, divenuto poi il suo fidanzato. I due hanno trascorso diverso tempo in carcere come compagni di cella. In quel periodo Thomas ha firmato i documenti per il divorzio dalla moglie e ha fatto da guardia del corpo a Cut. Una volta liberi i due vivono in California, in un paesino sulla costa.
Ex policeman accused of corruption, then reinstated after a mission of protection of a deponent: Cuthbert, then became his boyfriend. They lived some times in jail as cellmate. In that time he divorced by his wife and did the bodyguard to Cut.
One time free, they live in California, in a sea hamlet.


Serafino Fideli
, 26anni.
Un nuovo ricco italiano. Si occupa di eventi di beneficenza e possiede una fabbrica di giocattoli. E' un ragazzo dai gusti assai bizzari e dal carattere allegro. Nonostante vesta in un modo assai vistoso e sembri gay agli occhi della gente per il suo carattere espansivo, è in realtà etero. Ma purtroppo per lui, non ha incontrato la sua dolce metà. Un giorno vorrebbe sposarsi e avere dei bambini. Di contro è un po' bambino lui.
A new italian rich. He deals with charity events and has a toy factory. It 'a boy with very bizarre tastes and cheerful character. Although he's overdressed and looks gay at people's eyes 'cause his nature, he's heterosexual. But unfortunately for him, he didn't meet his sweetheart, yet. One day, He wishes to marry and to have kids. On the other hand he'sa little baby himself.



Cuthbert Bailey
, 21 anni
Ex prostituto al servizio di Asmodeo, uno dei mafiosi più potenti che gestisce un giro di prostituzione giovanile. Una volta ribellatosi è stato nascosto in carcere e lì messo sotto la protezione di Thomas Reed. I due hanno trascorso diverso tempo in carcere come compagni di cella. Una volta liberi vivono in California, in un paesino sulla costa.
Ex prostitute who worked for Asmodeo, one of the most influential members of the mafia who deal youth prostitution. When he rebelled he's hidden in jail and protected by Thomas Reed. They lived some times in jail as cellmate. Once free, they live in California, in a sea hamlet.


Helena Russell
, 15 anni.
E' la sorellina di Hogan. Era malata di leucemia, e non sapeva di ciò che faceva suo fratello per coprire le spese mediche, anche se ad un certo punto se l'era immaginato. Dopo il trapianto di midollo si è completamente ripresa e cerca di vivere la vita normale che non ha mai avuto. Adora leggere ed è una personcina molto sveglia per la sua età.
She's Hogan's little sister.
She was sick

of leukemia

,

and didn't know

what her brother was doing

to cover

her medical expenses,

even if

at some point

s

he had imagine it

.

After

bone marrow transplant

she's

fully recovered

and tries to live

the normal life

she never

had.

She loves

read and she's

a smart

person

for a girl of her age

.